Luxury holiday home with private pool for rent in Cotignac (Provence) for 8 p.
Are you dreaming of spending your holidays in the Provence? Enjoying the French sun, walking through the vineyards, visiting provencal markets or sipping cool wine at the pool with your family or friends? Then Mas de Terrisse is your perfect holiday home. Rent direct with the owners, so you save commission fees!
Mas de Terrisse
This fully renovated and very tasteful decorated french farmhouse on 4 hectare of land is surrounded by nature, but still close to the beautiful village of Cotignac (Var, Provence). With a private pool, 5 bedrooms, 3 bathrooms, the holiday house is very suited for families enjoying holidays together.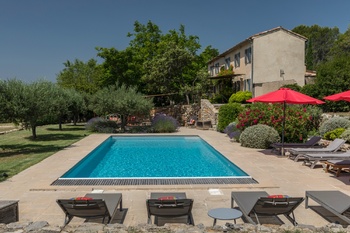 Private pool 12 x 5 meter (salt cleaned)
The private pool is next to the house, where you have a marvelous view over the valley full with vineyards and olive trees.
The pool is cleaned by salt which is less aggressive for your skin than chlore. A automatic pool shutter prevents small children from falling into the water.
For the children there is also a trampoline, table tennis and a swing.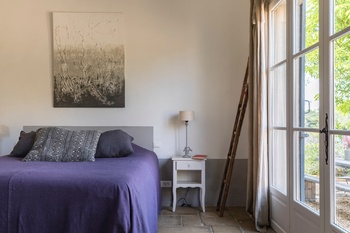 5 bedrooms and 3 bathrooms
The holidayhome is very suitable for families or friends that want to spend their holiday together.
On the first floor there are 3 large bedrooms (airconditioned), 2 bathrooms and a separate toilet.
On the groundfloor 2 bedrooms and a bathroom are situated. To keep the quality of the house at our standards we only rent out to 8 people eventhough we have beds for 10 people.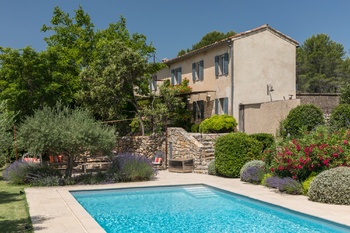 The perfect place for your holiday in the Provence.
The garden is equiped with a mosquito trap system (Biobelt ), so you can fully enjoy the pool and the terraces in the evening.
The large pool is cleaned by salt (less aggressive for your skin) with view over a wine valley.
Do you like a day away from the pool? Saint Tropez, Nice, Marseille en Aix en Provence are on an hour driving distance.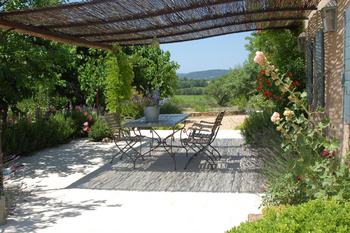 In the Provence, surrounded by vineyards and olive trees
Mas de Terrisse is located at 4 km of Cotignac (Var, Provence); a very charming village well known for its ancient cliffhouses and fountains.
The house is set on 4 hectare of privately owned land so you are totally private. From the various terraces around the house you have a stunning view. You will enjoy the sun from sunrise to sunset, while there is enough shade to escape from it if you want to.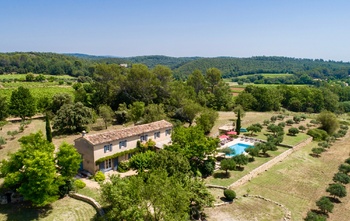 Rental holiday house directly from the (Dutch) owners
The Dutch owners renovated the house for their own use and decided to rent the house in July and August (other months on request) a few years ago.
Rental is from Sunday to Sunday so you can avoid the busy " black saturdays" on the road.